Youth Activities
Young Leaders In Service

Shirley Lions recognise that Young People are contributing to the Community in many ways and we support young people to achieve the internationally recognised Young Leaders in Service awards.

The awards recognise young people who provide significant levels of service to their communities. There are two award levels:
The Silver Seal Award for young people who provide at least 50 hours of service to their community during a 12 month period
The Gold Seal Award for those who provide at least 100 hours of service during a 12 month period.Young people between the ages of 11 and 18 (school years 7 to 13) are eligible to participate in the Young Leaders in Service awards. Each young person will be provided with a booklet in which to log service activities.
If you would like to try to achieve this award or know someone who may be interested you will find more information in this flyer and presentation.
Please contact Lion Jackie Culliford on 0845 833 9547 to talk about this and to get started. Calls to this number will be charged at a local call rate.
Download Poster See the presentation for more info
Examples of activities to achieve Young Leaders in Service Award
Photos below show some of our YLIS from Light Hall School, Shirley Sea Cadets and Solihull 6th Form College receiving their awards.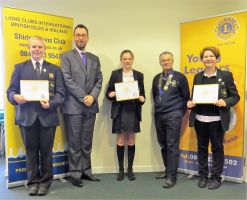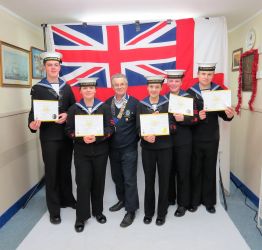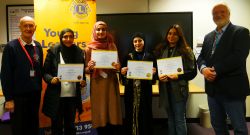 Clean up for the Queen
On Saturday 16th April Shirley Lions organised two local litter picks as part of this national initiative, one in Shirley Park and one in Bills Wood Nature Reserve.
From these litter picks around 30 sacks of rubbish were collected ; a total that would not have been possible without the help of our Young Leaders in Service. We would also place on record our thanks to Shirley Sea Cadets and pupils from local schools who also joined in.
Our next litter pick will take place on 29th April 2017. Please meet at Shirley Library 10.00 am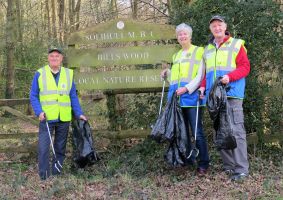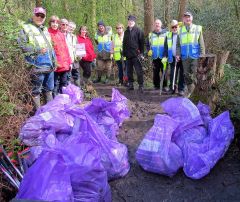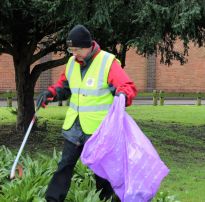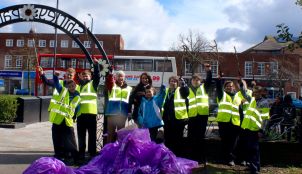 Shirley Lions also assisted Haslucks Green Junior School with their litter pick in Shirley Park in March 2017. 60 enthusiastic school children assisted by teachers and Lions tackled the whole of the park in one afternoon and collected bag upon bag of rubbish.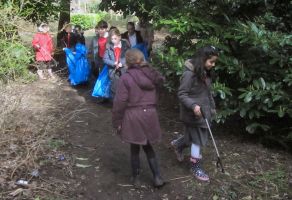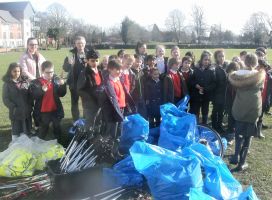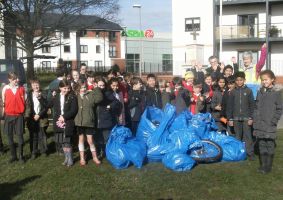 Young Ambassador of the 21st Century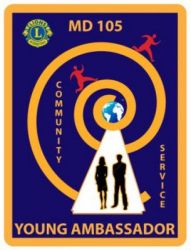 The Lions Young Ambassador competition acknowledges the work of young people working as volunteers and gives them the recognition they deserve, thus boosting their self-esteem, their confidence in themselves and highlighting the charities and volunteer groups with which they are involved. Shirley Lions Club is always keen to hear from young people aged 15 to 19 , who are active in their local community and who would like to take part in the contest.
For the Lions year 2016-17 Shirley youngster Alex Flanagan represented us. Alex who is an A Level student at Aston University Engineering Academy combines his studies with voluntary work at The Bridge which is a family church and the home of Solihull Christian Fellowship (SCF) in the heart of Shirley. Alex impressed the judges by telling them about the Sunday school activity he regularly leads and also numerous activities with young people within the Church. As a musician himself he is also involved in working with the younger children to develop their musical skills and confidence and he will be using some of the £500 bursary he has won in the Midlands heat of the competition to set up an after-school music group for children in years 2-4. The money will also support the development of a Dadís Saturday morning Club which will encourage local dads to spend time with their children.
Alex then went forward to the national finals level of the competition where he was up again the 12 District winners from the other parts of the UK and Ireland. Whilst not winning Alex gave a very impressive presentation and we thank him for his participation. He is now busy spending his £500 bursary on his nominated project.
If you would like to represent us in the future in this competition or know someone who may be interested please contact Lion Jackie Culliford on 0845 833 9547. Calls to this number will be charged at a local call rate.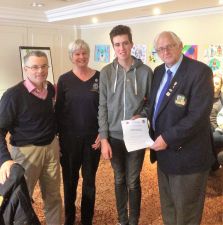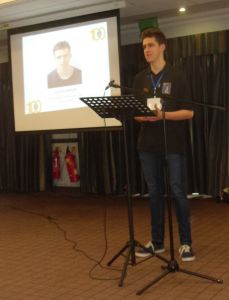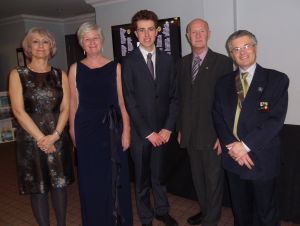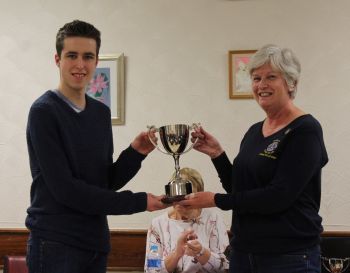 Peace Poster Competition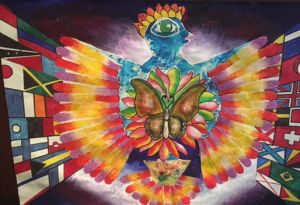 This contest encourages young people, aged 11 - 13 to think about peace, creatively express what it means to them and to share their own unique visions with the world. The theme for the 2017-2018 is "The future of Peace". Students select a medium as outlined in the contest rules below to draw, paint or sketch their interpretation of the contest's theme. For further information please contact Lion Jackie Culliford on 0845 833 9547. Calls to this number will be charged at a local call rate.
To watch the Peace Poster video please click on the YouTube link below.

For the full rules of the competition please go to http://lions105m.org/peacepostercomp.htm
Youth Exchange

The Lions Youth Exchange Programme began in 1961 and is committed to broadening international awareness among young people worldwide by enabling exchanges between countries in every part of the world. The programme funds visits abroad for individuals aged between 17 and 21 who are active within their communities each year. Particpants are given the opportunity to attend youth camps where young people from all nations get involved in community service and cultural projects. For further information please contact Lion Ken Barker on 0845 833 9547. Calls to this number will be charged at a local call rate.