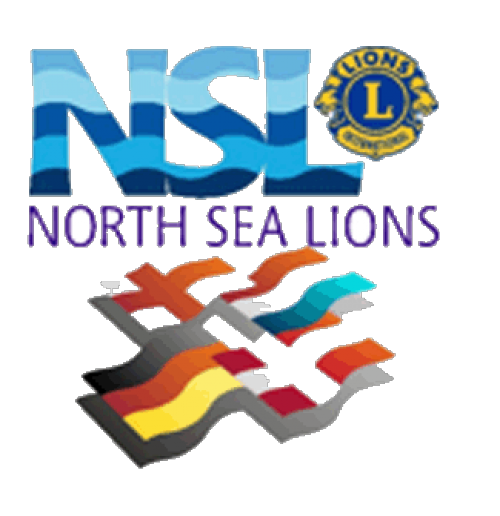 North Sea Lions is a co-operation between 11 Districts in countries that border the North Sea. In the UK, these districts are 105M and 105E. There are a further 5 Districts from the Netherlands, 3 from Germany and 1 from Denmark. All the clubs donate €80/club and all the clubs in those districts have the opportunity to propose a project. The last UK supported by Retford LC,105E project was the building of 2 new floors on a school in Kenya. The total amount NSL can provide is apx. €62,000.
The 11 District's NSL officers meet once a year in September, the meeting location rotating between the districts. 2 years ago 105M hosted the meeting in Solihull, last year it was in Delft NL and this year it was in Lingen DL. On the Friday evening the officers with partners have a dinner. On the Saturday morning, the officers discuss NSL business, the new projects are introduced and after a thorough discussion, the decision is made. By 12.30 it is all over. Partners have returned from their walk, everybody has lunch, do an afternoon activity and then a dinner where all 11 want to say something. Sunday morning everybody goes his way. This is an organisation which now for 37 years works very smooth and efficient. There is a chair and secretary. No treasurer. When money needs to be transferred, the district treasurers transfer it direct to the treasurer of the club that manages the project. It is also hand in hand with a Lions club in the area where the project is. None of the money raised is used to cover any expenses incurred by the officers or running NSL. Districts compensate for cost according to their own rules.
This year was as efficient as previous years. The current Chair had been chair for 3 years and reached the end of his term. Lion Jaap de Jonge, a member of Shirley Lions made himself available and was appointed. Running projects were discussed. The building of a school in Rwanda, supported by a Dutch district, was completed. The refurbishment of an orphanage in Lithuania has transformed into a new build. All costs are properly accounted for and we are extremely happy how this project progresses. The solar power plant for a hospital in Tanzania also progresses slowly but surely.
Then 3 new projects were introduced.
— Green power energy for a hospital in Lukulu Distrikt in Zambia NL 110 BN
This project was for building a solar power field to supply energy for a hospital in a remote hospital.
— "Drop by Drop" Wells for Namibia DE 111 NW.
Project to drill wells with pumps, powered by solar energy.
— "School WASH" for Rural Zambia DE 111 N.
A project to upgrade toilets and washing facilities at schools, mainly to prevent girls from having to skip school when they have periods.
As you can read, all extremely worthwhile projects and all worthy of a donation from NSL. But, there is the covenant by which we work. Strict rules about the type of projects, finance, oversight, involved parties. Also, NSL funds have to make a decisive impact on the project. In principle, we do not split the sum. It is then when we look at these projects in depth, if they adhere to the rules. We can't hand over your money without being sure it will be well spent. One project was not properly costed, while the other one was mainly handing money to another charity.
The winning project was Drop by Drop. 6 Lions Clubs are presently Dutch and German involved in the funding action. The Namibian Lions Club Windhoek Alte Feste is also participating in the project. The total cost is over €200,000 of which NSL is almost 30 Other funds are committed by the participating clubs, LCIF and a generous private donation.
The complete proposal can be emailed on request and for more information about North Sea Lions please do look at their Facebook page :-
https://www.facebook.com/NorthSeaLions