THIS YEAR'S BEER & CIDER FESTIVAL TOOK PLACE ON FRIDAY 8TH AND SATURDAY 9TH SEPTEMBER 2023 AT SHIRLEY BRITISH LEGION.
WATCH THIS SPACE FOR DETAILS OF NEXT YEAR'S FESTIVAL
Opening times for both days were 12.00 noon to 11.00 pm

Entry fee was £10 which included a souvenir beer glass, programme and £5 worth of beer tokens.
Advance tickets for the Festival can be obtained from Shirley Royal British Legion or simply pay on the door by cash or card.
On both days entertainment will be provided by Ray's Open Mic Performers
Please also follow us on Facebook
Please also follow us on Twitter
Please also follow us on Instagram
Some photos from previous festivals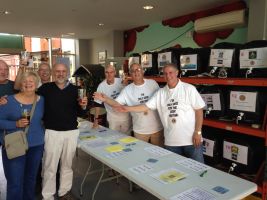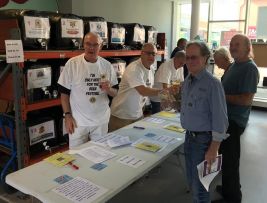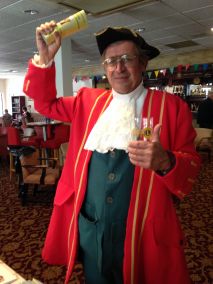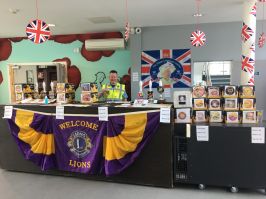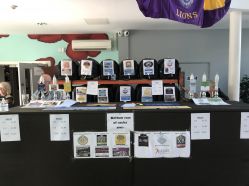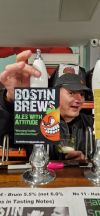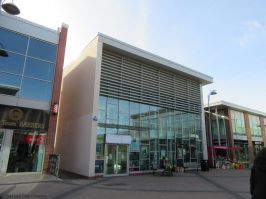 The beers and ciders for 2023 were:
BEER
ABV
TASTING NOTES
SPONSORS
1
Blonde Star
Silhill Brewery
4.1%
It takes a knowledgeable brewer to combine malty and hoppy flavours successfully. It's all about the balance. A masterstroke in the blending of hops for bitterness with those that bring their own flowery oils to achieve a final finishing aroma that is truly unique.
Silhill Brewery
2
Coffee Liqueur Porter
North Riding Brewery
4.5%
Porter brewed with English malt and hops, infused with coffee liqueur flavouring post fermentation.
Paragon Bank
3
Dark Ruby
Sarah Hughes Brewery
6.0%
A dark ruby strong ale with a good balance of fruit and hops, leading to a pleasant, lingering hops and malt finish. This beer is an award winning festival favourite.
C Bastock Funeral Directors
4
Elsie Mo
Castle Rock Brewery
4.7%
A single malt ale with a lovely golden hue. A blend of First Gold, Challenger, Aurora and Bobek hops give Elsie Mo its delicate citrus aroma and floral taste.
Lions John Garfield and Keith Prescott
5
Galeru
Neepsend Brewing Co
4.6%
A combination of U S Talus and Australian Vic Secret delivers big flavours of pink grapefruit, citrus, rind and stone fruit, held together with a hint of bitterness.
Melvyn Danes Estate Agents
6
Glamour Muscles
Shiny Brewery
5.3%
Big flavoured hazy IPA brewed with Citra, Mosaic, Columbus and El Dorado hops, Unfined and Vegan friendly.
Plume Tyre Services
7
Mosaic Pale Ale
Neptune Brewery
4.5%
A delicious Mosaic single hopped pale ale, vibrant tropical fruit aromas with bursts of blueberry, papaya, mango and passion fruit are rounded off with an enhanced grapefruit bitterness. Vegan friendly.
Paragon Bank
8
Northern Blonde
Brass Castle Brewery
3.9%
Our take on this classic style. An easy drinking and refreshing malt-forward blonde ale.
Shirley Round Table
9
Raspberry Milkshake
Bostin Brewery
4.8%
A hazy, pale ale with citrus hoppy notes. Smooth to taste with a definite hint of raspberries.
Smart Homes
10
Skin Deep
Anarchy Brew Co
4.2%
A medium-bodied pale ale with subtle bitterness. The flavour is a mix of tropical fruit with a slightly resinous character. Vegan friendly.
Station Fish Bar
11
Sleepy Badger
Little Critters Brewery
4.5%
A classic British-style stout brewed with flaked oatmeal, chocolate malt and roasted barley. The richness of the grain blend is balanced by the nutty/smokey character of the roasted malt, the creaminess from the oatmeal flakes and a dose of whole hops finished off with award winning honey from the Sheffield Honey Company. With a light/medium body and dry finish this is our premium dark session ale.
The Shaking Hand
12
Spittin' Feathers
Leatherbridge Brewery
4.0%
Mid amber in colour this traditional style bitter has a pleasant earthy maltiness and a crisp bitter finish.
Solihull Windows
13
Stairway
Ludlow Brewing Co
5.0%
Our finest pale ale. Brewed with vibrant Sladek and Marynka hops from Eastern Europe, expect sprightly citrus and floral aromas with delicate piney notes. The finest English Maris Otter barley malt brings it back home with a full-bodied and creamy palate that'll be sure to send you on your Stairway to Paradise !
The Holiday Warehouse
14
Startline
Bristol Beer Factory
4.2%
Next in our evolution brews, from the origin of hops to the evolved counterparts. All Kiwi hop goodness in this session pale ale celebrates the family of Pacific Jade with its complex citrus and spice. Introducing the hop family, born from Pacific, we have Nectaron and Waimea, expect mandarin orange and a tropical slice from new hop to BBF tanks Nectaron. All built on a clean Pilsner and Hana malt base, progressive meets classic malt platform. New Zealand make hops that fly in cask, simple.
Paragon Bank
15
Jouster
Goffs Brewery
4.0%
A drinkable, tawny coloured ale, with a light hoppiness in the aroma. It has a good balance of malt and bitterness in the mouth, underscored by fuitiness, with a clean hoppy after taste.

William Painters Funeral Directors
16
Tournament
Goffs Brewery
4.0%
An amber coloured thirst quenching session bitter with a delicate floral aroma and a hoppy bittersweet and slightly biscuity malt finish.
The Regency Hotel
17
Vanishing Point
North Brewing Co
3.8%
This is a laid back and sessionable pale ale made for no fuss drinking. A blend of pale malt, caramalt and wheat makes for a smooth and chewy body that leads to a crisp and satisfying bitterness and subtle fruit flavour from Cascade and Columbus hops.
Vinyl Valves and Records
18
Wreckless
Redwillow Brewery
4.8%
This beautifully balanced pale ale is loaded with Citra and Amarillo hops, providing massive amounts of tropical fruit with a clean finish.
The Pup and Duckling
19
Black Dragon
Gwynt y Ddraig Cider Co.
7.2%
The legendary Black Dragon ! This cider now has quite a following amongst the most discerning cider drinkers. It is rich in colour, body and flavour with a fresh fruity aroma.
Acocks Green Lions
20
Bull Walloper
Hunts Cider Co
7.2%
Before the autumn sales there would be Bull Wallopers calling on Mr Hunt. "Ave ee some of the strong cider ? Us had it 'ere last year" they'd ask whilst eyeing his best cattle. This rich, medium sweet Devon cider always helped drive the bidding a little higher.
Solihull Lions
21
Farmhouse Cider
Rich's Cider Co.
6.0%
Our traditional farmhouse cider is made from freshly pressed locally grown cider apples. Varieties such as Dabinett, Kingston Black and Somerset Redstreak are blended to produce our full flavoured still cider which is aged in oak barrels to produce a full rounded bodied taste.
Acocks Green Lions
22
Farmhouse Pyder
Gwynt y Draig Cider Co.
6.0%
An out of the ordinary mix of apples and pears expertly blended to tantalise your taste buds. Suitable for vegetarians, vegans and coeliacs. Contains sulphites.
Solihull Lions
23
Mango Cider
Lilley's Cider Co

4.0%
An aromatic sweet cider expertly blended with exotic mango to create a mouth-watering tropical flavour.

Shirley Lions

24
Merry Monkey Cider
Lilley's Cider Co.

4.5%

A medium scrumpy made with unfiltered bittersweet apples, full of character with a rich appely flavour.

Lion Emma McGann
25
Oddfellas Grandmaster
Isle of Man Cider Co.

5.2%
Isle of Cider's very own branded cider. We teamed up with one of the best cider producers in Herefordshire to bring you a medium still cider made only from a blend of real Herefordshire cider apples.

Paragon Bank

26
Pilot
Ascension Cider Co.
4.8%
This is our original and best selling cider. Wild fermented cider blends with freshly pressed apple juice to create a refreshing and fruity blend.
Acocks Green Lions
27
Still Farmhouse Cider
Cranborne Chase Cider Co.
6.0%
A crisp, fruity, easy going cider that leaves you longing for more. Our best all-rounder. Made on our family farm from cider apples grown in Dorset and our own orchards.
Solihull Lions
28
Thistly Cross Whisky Cider
Thistly Cross Cider Co.
6.9%
Our whisky cask-aged cider. Matured in ex-Glen Mora Distillery whisky casks, this is a dry and subtle cider. Infused with mellow vanilla oak of the cask. A refreshing complex drink to be savoured.
Shirley Lions
We are very grateful to the following sponsors as without their help this event would not be possible :-
Paragon Bank plc, Homer Road, Solihull.
C Bastock Funeral Directors, Stratford Road, Shirley, Solihull
Silhill Brewery, Catherine de Barnes, Solihull
The Pup & Duckling, Hatchford Brook Road, Solihull
William Painter Funeral Directors, Warwick Road, Solihull
Melvyn Danes Estate Agents, Stratford Road, Shirley, Solihull
Station Fish Bar, Haslucks Green Road, Shirley, Solihull
The Shaking Hand, Parkgate, Shirley, Solihull
Vinyl Valves and Records, Old Lode Lane, Solihull
Plume Tyres, Stratford Road, Shirley, Solihull
Solihull Windows, Stratford Road, Shirley, Solihull
The Holiday Warehouse, Stratford Road, Shirley, Solihull
The Regency Hotel, Stratford Road, Shirley, Solihull
Lions John Garfield and Keith Prescott
Smart Homes, Stratford Road, Shirley, Solihull