Father Christmas Sleigh
Every evening during the run-up to Christmas we tour the streets of Shirley raising funds for worthwhile local causes as well as giving local children an early opportunity to see Santa. All weekday evenings commence at 6.30 p.m. except Fridays which start at 6.15 p.m. and finish around 8.30 p.m. Saturdays are from 9.00 am to 5.00 pm and Sundays 10.00 am to 4.00 pm. at local supermarkets.
During the month of December 2023 Shirley Lions will once again be accompanying Father Christmas on his sleigh. The routes and dates we are out accompanying him are :-
Saturday 2nd December
Shirley Christmas Lights Switch On, Parkgate, Shirley
Monday 4th December, start at 6.30 pm.

Tanworth Lane, Maxstoke Croft, Dunstan Croft, Bearley Croft, Charlescote Croft, Heath Drive.
Tuesday 5th December, start at 6.30 pm.

Longmore Road, Fieldon Close, Union Road, Coombe Road, Moreton Road, Bramley Croft.
Thursday 7th December, start at 6.30 pm.

Lawnswood Avenue, Eastcote Close, Newnham Rise, Freasley Close, Bidford Close, Headley Rise, Barford Road, Blenheim Road, Wixford Grove.
Friday 8th December, start at 6.15 pm.

Navenby Close, Gedney Close, Peartree Crescent, Peartree Grove, Peartree Close, Myton Drive, Hargrave Road, and Mountford Road.
Monday 11th December, start at 6.30 pm.

Radborne Road, Stockley Crescent, Finmere Way, Ashwell Drive, Rushbury Close, Swinbrook Way, Ufton Close, Ufton Crescent.
Tuesday 12th December, start at 6.30 pm.
Anthony Road, Oberon Drive, Catesby Road, Regan Avenue, Shakespeare Drive, Hathaway Road, Woodlands Lane, Moorhills Croft, Sidenhill Close, Micklehill Drive.
Wednesday 13th December, start at 6.30 pm.

Stretton Road, Tackley Close, Withybrook Road, Lillington Road, Holllyhurst Grove, Woodloes Road, Wakelin Road, Shotteswell Road.
Thursday 14th December, start at 6.30 pm.

Amington Road, Langcombe Road, Mallaby Close, Binley Close, Dunton Hall Road, Bills Lane, Pathlow Crescent, Tyberry Close
Friday 15th December, start at 6.15 pm.

Stratford Road, Madams Hill Road, Brownley Road, Harnall Close, Monkspath Close, Meadow Close, part Cranmore Boulevard, Arbury Hall Road, Swallows Meadow, St George's Road.
Saturday 16th December, 9.00 am to 5.00 pm.

Tesco's, Monkspath.
Sunday 17th December, 10.00 am to 4.00 pm.

ASDA, Parkgate, Shirley.
Monday 18th December, start at 6.30 pm.

Hazeloak Road, Hurdis Road, Middleton Road, Velsheda Road.
Tuesday 19th December, start at 6.30 pm.

Shirley Park Road, Halifax Road, Danbury Road, Grenville Road, Gilliver Road, Chamberlain Crescent.
Thursday 21st December, start at 6.30 pm.

Berry Maud Lane, Crown Works Crescent, Hollywood Works Close, Millisoms Road, Lawford Grove.
Friday 22nd December, start at 6.15 pm.

Cranmore Road, Shakespeare Road, Avon Road, Conway Road, Conway Close, Clinton Road, Clinton Grove, Cranmore Boulevard, Northland Road
Saturday 23rd December 9.00 am to 5.00 pm.

ASDA, Parkgate, Shirley.
In the run up to Christmas 2022 Shirley Lions collected the magnificent sum of £6,959 from the sleigh collection and we would like to thank all the residents of Shirley and Solihull Lodge who contributed so generously. Our thanks also go to Renault Shirley, ASDA, Tesco's, SoLO, Shirley Sea Cadets, Age UK Solihull, Hazeloak School PTA, Solihull Scouts and Knowle & Dorridge Lions without whose support we would not have been able to raise this magnificent sum.
All the music on the sleigh is supported by PRS for music who provided a licence for the event music.
Some pictures from previous sleigh runs are below.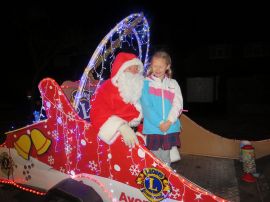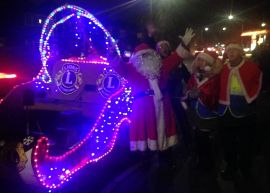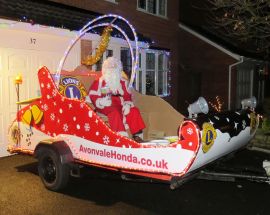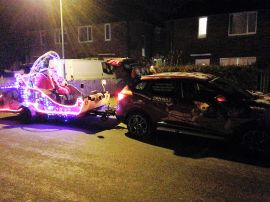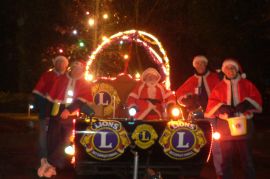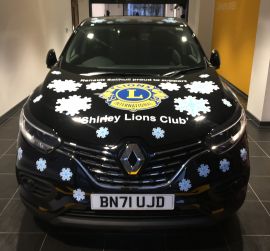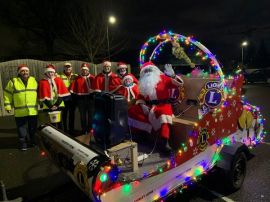 Shirley Christmas Lights
Every Year Shirley Lions assist the Friends of Shirley Park with the official switch on of the Shirley Christmas Lights. The Christmas Lights adorn the Stratford Road through the shopping area of Shirley during the month of December and brighten up the dark December afternoons and evenings. Our part of the event is to provide Father Christmas on his sleigh who travels through the Parkgate Shopping Centre and down to the Stratford Road where Father Christmas hands out sweets to the local children.