YOUNG AMBASSADOR OF THE 21ST CENTURY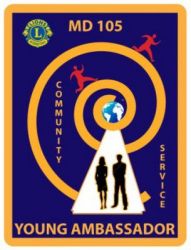 The Lions Young Ambassador competition acknowledges the work of young people working as volunteers and gives them the recognition they deserve, thus boosting their self-esteem, their confidence in themselves and highlighting the charities and volunteer groups with which they are involved. As a tangible reward the winner at District level reives a bursary of £500 and at national level £1000. The winnersí bursaries are to be used for the welfare work within the candidatesí projects or for training to develop the candidatesí potential to carry out this welfare work. These bursaries are not intended to be for the personal financial benefit of the candidates.

Shirley Lions Club is always keen to hear from young people aged 15 to 19 , who are active in their local community and who would like to take part in the contest.
For the Lions year 2017-18 Hannah Carthew represented us. Hannah is the registered carer for her own mother, a peer mentor for other young carers with Solihull Young Carers, a peer mentor at her school, a fund raiser for "Help Harry Help Others" and has just completed her 100 hours service for the Gold Award as a Young Leader in Service with Shirley Lions.
Hannah won the Midlands District level of the Young Ambassador competition and then went forward to the national finals in February 2018. There she was up against the very strong competition of the other Young Ambassadors from the 12 other Districts of the UK. Although Hannah didn't win she gave an inspiring performance and was a credit to Shirley Lions, Solihull Young Carers and herself.
If you would like to represent us in the future in this competition or know someone who may be interested please contact Lion Jackie Culliford on 0845 833 9547. Calls to this number will be charged at a local call rate.